Orange Palm Price List - Giclee Print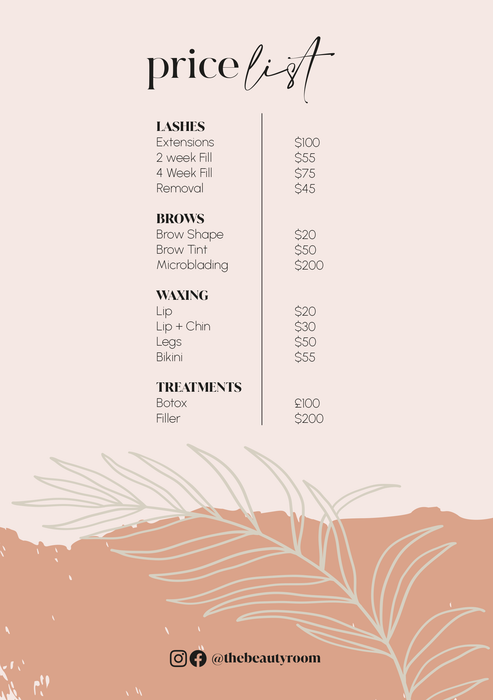 Introducing our striking Orange Palm Price List Print, a must-have addition to elevate your salon, beauty business, or hairdresser's establishment. This high-quality Giclee print combines the allure of tropical aesthetics with a functional price list layout, making it the perfect blend of art and practicality.
Available Sizes 
Immerse yourself in the vibrant hues of orange and the captivating silhouette of palm trees, evoking a sense of relaxation and exotic beauty. The carefully integrated price list seamlessly blends into the design, providing your clients with essential information while adding a touch of professionalism to your space.
Crafted using the finest Giclee printing techniques, this print ensures exceptional color accuracy, sharpness, and longevity. Its fade-resistant properties guarantee that it will retain its vibrancy and impact over time, even in salon environments where exposure to sunlight and other elements is common.
Enhance your salon, beauty business, or hairdresser's studio with the captivating Orange Palm Price List Print. It serves as a stylish focal point that engages your clients while offering them the convenience of having service details readily available. This print is an ideal addition for those seeking to create a welcoming and aesthetically pleasing environment that reflects the essence of their business.
Price List Detail Supply Requirement 
When ordering, we ask that you upload a file containing your price list text allowing us to copy and paste the information and rearrange to suit the design.  You can upload the file via the 'choose file' button.  
Alternative Print Substrates 
We also provide the option to alternatively print directly onto acrylic (these are pre cut with corner holes to allow you to mount to a wall/ surface of your choice) and is available as an A5 or A4 option. 
 Transform your space into a sanctuary of beauty and style. Order your Orange Palm Price List Print today and experience the fusion of tropical allure, functional design, and a professional touch. Elevate your salon, beauty business, or hairdresser's studio to new heights with this eye-catching and practical artwork.