Shadow Palm Price List Print - Giclee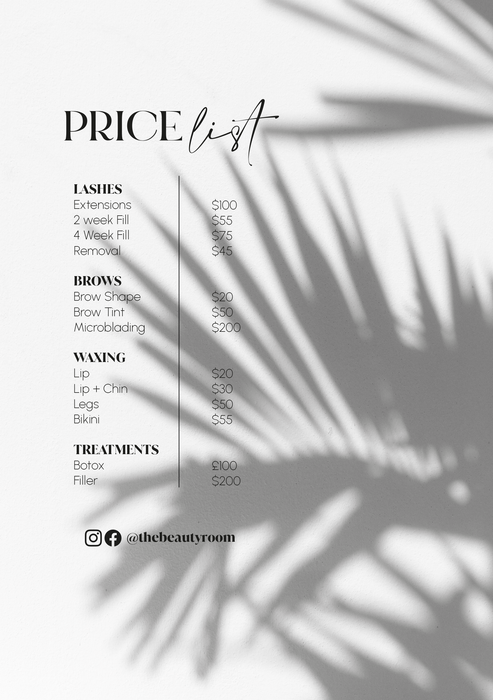 Introducing our exquisite Shadow Palm Price List Print, a captivating piece of art that brings the beauty of nature into your space. This high-quality Giclee print showcases a stunning palm tree silhouette against a dreamy backdrop, creating a sense of serenity and tranquility. 
Available Sizes 
With its intricate details and vibrant colors, this print adds a touch of elegance and sophistication to any room. The carefully arranged price list adds a functional element, making it a versatile choice for businesses and art enthusiasts alike. 
Crafted using the finest Giclee printing techniques, this print ensures exceptional clarity, sharpness, and longevity. The fade-resistant properties ensure that its beauty will endure over time, allowing you to enjoy the calming ambiance it creates for years to come. 
Whether you're decorating your home, office, or a commercial space, the Shadow Palm Price List Print is a versatile and eye-catching addition. It complements a variety of decor styles, from modern to tropical-themed settings, making it a popular choice among interior design enthusiasts. 
Price List Detail Supply Requirement 
When ordering, we ask that you upload a file containing your price list text allowing us to copy and paste the information and rearrange to suit the design.  You can upload the file via the 'choose file' button. 
Transform your space into a serene oasis with the power of art. Order your Shadow Palm Price List Print today and experience the fusion of nature-inspired beauty, artistic expression, and functional design. Elevate your surroundings and immerse yourself in the tranquility of this captivating piece.